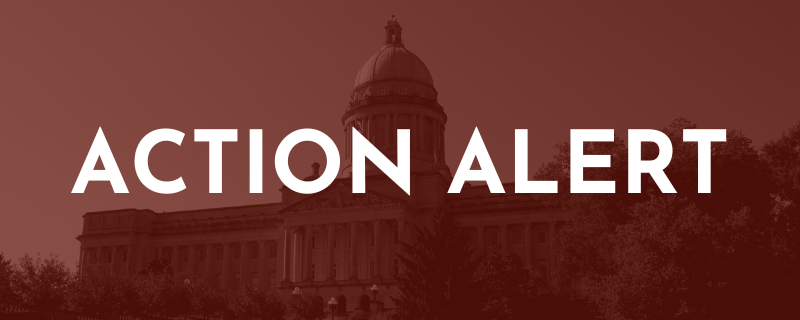 Governor Beshear vetoed several bills last week, including several opposed by KRC:
HB 4
SB 226
SB 126
SB 150
The General Assembly reconvenes later this week and may vote by a simple majority (51 in House, 20 in Senate) to override the vetoes, so that the laws would take effect.

Act TODAY! Contact your legislators and ask them to "uphold the vetoes on HB 4, SBs 226, 150, and 126."
HOUSE BILL 4
Favoring Large Scale Solar Developers Over Farmers & Rural Landowners Bill revises the current statutes on the Kentucky State Board on Electric Generation and Transmission Siting, weakening of protections for landowners from what is bring required by the state Siting Board of utility-scale solar facilities under current law.
The bill weakens existing protections for landowners and undercuts local government authority. Revisions are needed to assure the adequacy of decommissioning bonds, and to fully respect the rights of landowners during the decommissioning process.
SENATE BILL 226
Weakening Protections for Endangered Species & Water Quality
Bill would significantly interfere with the implementation of Kentucky's water quality standards when permitting discharges, such as coal mining-related wastewaters, into streams containing federally threatened and endangered species, and would alter timeframes for issuance of water quality certifications. The bill is in several ways inconsistent with Kentucky's obligations under the Clean Water Act and will likely spawn significant litigation and more delays and uncertainty in permitting under the 402 and 404 programs.
KRC testified in House Committee against SB 226. That testimony can be read here. HOUSE BILL 126 Bill would further muddle venue for civil actions against state officials or the General Assembly that challenges the constitutionality of state laws, regulations, and agency orders, by allowing any plaintiff or defendant in such an action to request a change of venue without reason, at which time the case will be assigned randomly by the Supreme Court Clerk to another circuit. Former law provided that venue was in Franklin Circuit Court, which was changed more recently to provide that venue lies where the plaintiff resides if the plaintiff is a Kentucky resident, or in Franklin County if a non-resident.
SENATE BILL 150
Anti-LGBTQ Bill
Bill seeking to limit authority of the Kentucky Board of Education and Kentucky Department of Education in relation a student's use of pronouns; prohibit a school district from requiring school personnel or pupils to use pronouns for students that do not conform to that student's biological sex; and establish requirements for any public school's course, curriculum, or program on the subject of human sexuality. Bill was amended in House committee to add most of the provisions of HB 470, a controversial bill interfering with parental decisions on medical care for trans kids, and interfering with decisions of medical providers on such care.
KRC encourages your support of the Governor's veto of this bill as a matter of solidarity with others seeking different facets of justice.
Read more from the Kentucky Academy of Science.
CONTACT YOUR LEGISLATOR!
Email Your Legislator
Find your Legislator at
https://apps.legislature.ky.gov/findyourlegislator/findyourlegislator.html
.
Their email address format is firstname.lastname@lrc.ky.gov
Call the Legislators Call 1-800-372-7181 and leave a message for "all Legislators" to: uphold Governor Beshear's vetoes on HB 4, SBs 226, 150, and 126